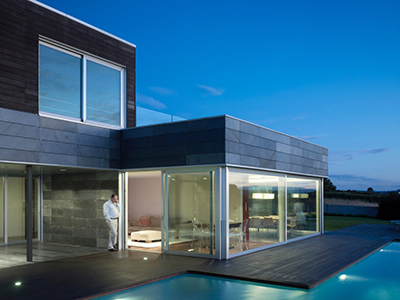 Lift & slide slide systems for large dimensions
There are two versions:


4500 lift and slide
4500 standard slide system

Possibility of 90º or 45º frame encounters
The sashes slide along a stainless steel rail in order to avoid wear and tear.
Download LIFT & SLIDE 4500 Brochure
Maximum glazing thickness
38 mm


Opening possibilities
Sliding of 2, 3, 4 & 6 sashes
Possibility of 1 rail (1 sash + 1 fixed light) & 3 rails
Pocket system 1 & 2 sashes
Possibility of corner sash encounters at 90º without mullions


Sections
Frame 100/123/127 mm - 3 rails 185 mm
Sash 51 mm


Profile thickness
Door 2,0 mm


Polyamide strip length
Lift & Slide 24 mm & 14,6 mm
Standard slide 30 mm & 14,6 mm


Maximum dimensions/sash
Width (L) = 3.300 mm
Height (H) = 2.900 mm
Lift & slide
Width (L) = 2.500 mm
Height (H) = 2.600 mm
Standard slide


Maximum weight/sash
Lift & slide 400 Kg
Standard slide 280 Kg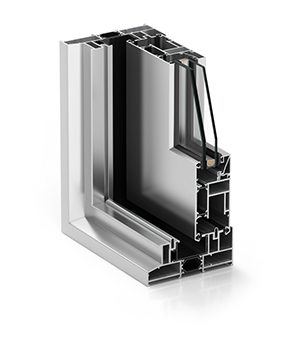 Please consult regarding maximum weight and dimensions for other opening types
Finishes
Possibility of bicolor systems
Color powder coating (RAL, mottled and rough)
Wood effect powder coating
Anti-bacterial powder coating
Anodized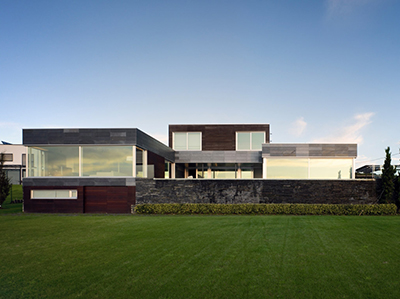 Transmittance
Uw from 1,5 (W/m²K)
Please consult typology, dimensions and glazing


Maximum acoustic insulation
Rw=42 dB


Air permeability
(EN 12207:2000) CLASS 4


Water tightness
(EN 12208:2000) CLASS 8A


Wind resistance
(EN 12210:2000) CLASS C4

Reference test: 1,85 x 2,05 m.
1 sash + 1 fixed
Within required by Building Regulation areas included is safety glazing
We also offer additionally ranges of coloured, toughened, laminated glass for extra security. Some other available glass options:
Acoustic
Solar control
Self cleaning
Digital print units
Ornamental
Gallery of ornamental glass types
All RAL colours available
Double colour options available
Anodised finish available
Please get in touch for more details!