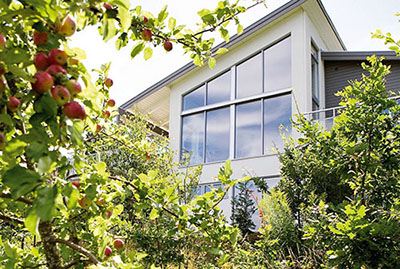 Our Design range offers a contemporary feel, suited to modern architecture with a deeper glass unit creating a minimal step between outer glass and frame for maximum light, a flush finish and simple, elegant lines.
Available in outward opening windows and doors, and sliding doors, in 48mm triple glazing.
The deeper glass unit removes the need for a step between frame and glass and creates a flush finish and clean lines.
Free rein to specify the size and shape of your windows.
The Design series can be combined with integral glazing bars if preferred, but is at its best when used with simple large areas of glazing.
The deeper triple glazed unit not only looks good, but provides greater efficiency – the larger glass cavity increases the windows thermal performance, giving you a U-value of 1.0 W/m2k for opening and 0.9 W/m2k for fixed windows.