To complete our range of high-quality products we also offer the design and supply of internal and external wooden shutters.
Whatever the age or style of your property, window or door, our fully bespoke window shutters will enhance any living space. A full selection of finishes and colours are available, offering style, quality and durability.
We can also, if required, advise on which choice would best complement your internal décor. Our louvres are tilted by a traditional tilt rod or hidden tilt rod.
Cafe Style Shutters
Cafe or half height shutters allow maximum light into the room. Adding privacy and style they can be fitted alone or with curtains to dress the window. Café shutters generally cover the lower section of a window or they can be designed to sit higher up in line with a design break in the window glazing which is often at the 3/4 point.
Full Height Shutters
Full height shutter panels cover the entire window providing complete privacy and elegance. Inserting a dividing mid rail will allow you flexibility on how you tilt the top & bottom slats or choose to insert a solid raised or solid shaker section to make your shutter design truly bespoke.
Tier on Tier Shutters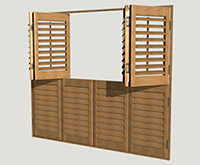 Also referred to as double hung panels, this option will give you complete coverage on the window and maximum flexibility with light control. The top tier panels are split from the lower tier panels and can be folded back to give a clear view through the window. This design works well if you are going to fold the top panels back on a regular basis and we recommend ordering thinner panels so that bifold panels can open back and sit neatly either side of your window.
Solid Shutters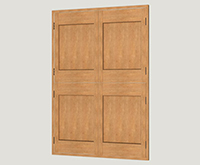 We offer a choice of either simple shaker style or traditional solid raised panel. All solid panels are supplied with rebated stiles which allow the panels to interclick like a tongue 'groove system. This can add to their benefit in room darkening and enhanced security. Because every shutter is custom made you could choose to add moveable plantation slats to a section of your panel.